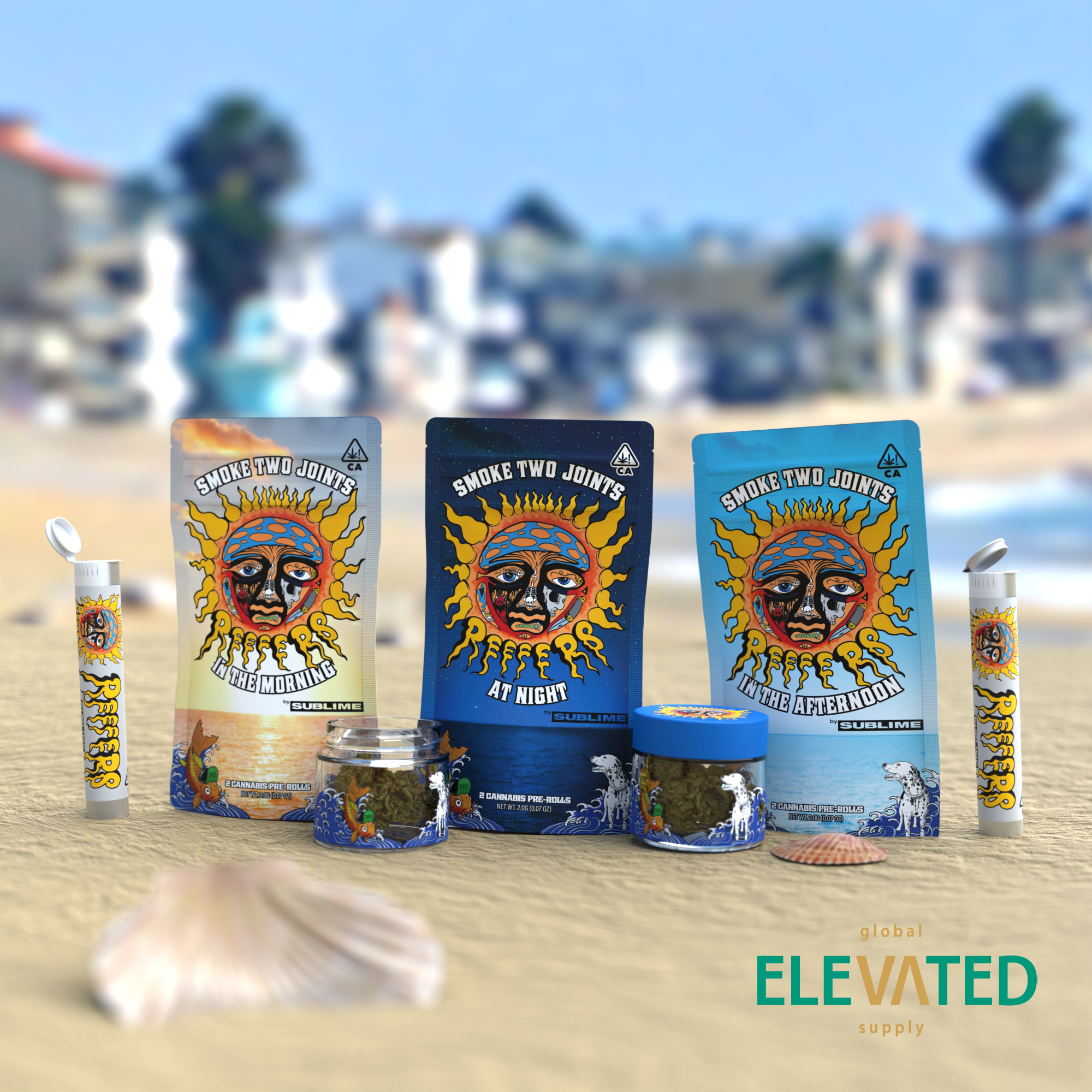 REEFERS by Sublime: The "Elevated" Art of Packaging High Quality Cannabis
Read Time:
3 Minute, 39 Second
Elevated Global Supply Curates and Delivers Full Suite of Packaging and Designs for the Launch of Legendary Reggae-Punk band Sublime's Line of Connoisseur Cannabis Products; Packaging Conveys Band's West Coast Origins, Incorporating the Iconic Sublime Sun and Archival Band Photo
Source: Elevated Global Supply
Elevated Global Supply (EGS), a multi-national consumer packaging design and fulfillment company specializing in the emerging cannabis industry, has curated and delivered the newly-released packaging for the recent launch of REEFERS by Sublime and the band's developing line of legal cannabis products for the California market.
"Elevated worked closely with the Sublime team on packaging for the REEFERS line, and we are extremely pleased with the rollout," said Robert Kramer, CEO and co-founder of EGS. "The packaging solution we put into production aligns directly with Sublime's 'smoke two joints' branding. It was important that we get this right. This was a unique opportunity for me to personally connect with a band I have been a supporter of for almost 30 years."
Working with the product manufacturer, The Healing Plant of Costa Mesa, EGS designed and produced a printed mylar packaging pouch featuring the art and identity of the iconic band in bold presentation, enclosing two sealed tubes, each protecting a lab-tested, connoisseur quality, legal cannabis pre-roll joint. Both items are made from recyclable materials.
"Working with Elevated gave us an opportunity to ensure that the quality of our packaging reflected the quality of our product, and we are pleased with the outcome of our collaboration," said Robert Taft, CEO of The Healing Plant, the manufacturer of REEFERS by Sublime.
With the successful launch of REEFERS, EGS will now shift to delivering additional packaging solutions for the line, including branded glass jars and packaging for cannabis flower, and assorted tins, containers, and wrappers for tinctures, concentrates and edibles as they roll out.
"Elevated's work with cannabis brands requires creativity and dependability equally," continued Brian Pyun, lead sales and design for REEFERS. "The REEFERS packaging is designed to engage consumers, enhancing their product experience with art, color, and portability. We do this remembering that our packaging solution must also preserve and protect the quality of the cannabis while ensuring all packaging elements deliver on time and within spec to meet strategic production timelines without delay."
EGS prides itself on being an end-to-end packaging solution for its clients, with dedicated employees staffing the firm's international offices specializing in creative, design, sourcing, production, and quality control. Through its multi-national presence, EGS has also mastered the modern logistics landscape, and the firm's single-source model ensures that all packaging elements are delivered to spec and on time to meet product manufacturing and market rollout schedules. EGS sums up its operational vision with the following elements for superior packaging:
Protection: Packaging plays a huge role in effectively protecting and preserving cannabis. EGS works closely with its supplier side affiliates to source the most effective solutions.

Expression: A cannabis packaging solution needs to express the identity of its contents. It communicates and showcases quality, brand, and Identity. It should be memorable.

Transferability: Packaging must streamline the logistics of efficiently moving wholesale inventory from point of origin to point of sale and then consumer use.

Enhancement: Packaging solutions should enhance the consumer's interaction with their desired product. It should engage interest and elevate the impact of the experience.
Media Contact:
Chris Egger: chris@chrisegger.com
Reefers by Sublime Online:
Official Website: https://reefersbysublime.com
Instagram: https://www.instagram.com/reefersbysublime
Snapshot: Elevated Global Supply
Elevated Global Supply (EGS) is a multi-national packaging company responsible for sourcing all materials relevant to retail packaging serving the cannabis industry. Headquartered in Los Angeles, EGS staffs an additional domestic U.S. office in Chicago, as well as multiple offices in Southeast Asia including three in China and soon, Vietnam. The firm's international presence means its growing team of inhouse professionals directly oversee the entire production process, from client design stateside to production overseas. This is a competitive advantage for working with EGS and makes the firm a leader in delivering packaging on time and on budget. To learn more about EGS or to secure a packaging quote, please visit www.egspkg.com.
A photo accompanying this announcement is available at https://www.globenewswire.com/NewsRoom/AttachmentNg/0312bd35-4d4c-4a95-9b31-6a66e28ac62d