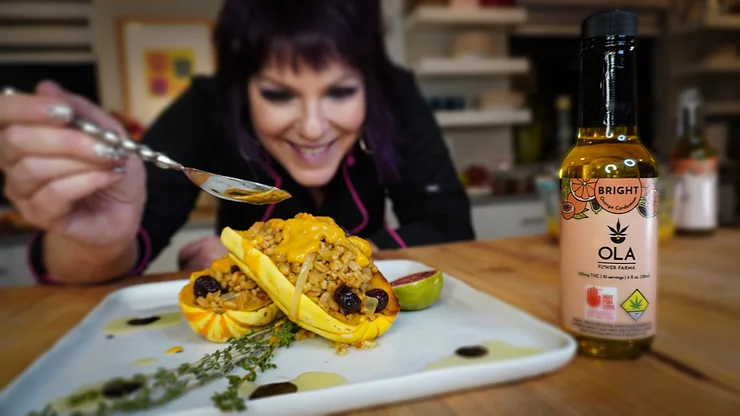 A Dinner Party with CHEF JULIE HOUSER
Read Time:
4 Minute, 33 Second
Chef Julie Houser has exquisite tastes. As the CEO and Founder of Flower Farma, Chef Jules has been a pioneering celebrity plant chef for over twenty-five years. Known to her clients as The Flower Chef, she has developed "farm-to-table" menus for clients such as Jeff Bridges aka The Dude, Julia Louis-Dreyfus, The Canadian Consulate, and John Cleese. Her mission is to establish a new precedent for high-end, plant-inspired cuisine in the fine dining marketplace. Inspired by her journey as a chef and breast cancer survivor, Chef Jules recently launched OLA, a line of delicious CBD-infused oils (THC available in WA and coming soon to NY) for appetizers, salad dressings, cocktails, and more. (She also created OLA — a version without any of the psychoactive ingredients). Flower Farma is a culinary-focused cannabis brand creating a new space in the industry for hospitality and home entertaining. Chef Jules is also a consumption lounge visionary, blending her unique combination of skills to help shape the future of cannabis culture.
We are so lucky to have her with us, and we can't wait to collab with her!
In canna-conjunction with Chef Houser, Elevations Nation is hosting a night of culinary and cannabis infusion at our upcoming Summer Buds & Blooms. Friday, June 9 from 5PM-9PM at Cannabis Talk 101 Studios. This exclusive, gourmet dining experience features a curated dinner by chef Julie Hauser. Celebrate the bounty of summer and enjoy layers of infused elevated flavors in this decadent four-course culinary experience. The night begins with a canna-cocktail hour followed by hors d'oeuvres and vapor served by the glass provided by Zenco.
In anticipation of our dinner party, we were lucky enough to have a conversation with Chef Houser about inspiring young professionals, her newest canna-infused creation, OLA, and the routine morning dance party that keeps her grounded.
Here's what she had to say:
Q: What advice would you give to young professionals who aspire to leadership positions in their careers in the cannabis industry?
CH: Stay focused and always approach obstacles with compassion for yourself and for others. Often when we are faced with adversity, it's a gift of information for the future. Having faith that it's all unfolding as it should and that we are all here to help one another can be your guiding light.
Q: What have been some of your proudest accomplishments as a leader, and how have these accomplishments impacted your community or organization?
CH: Any time we can transform adversity into a creative solution, we've accomplished something great. As a breast cancer survivor and prior patient taking a plethora of medications, I turned to my kitchen to create a new solution and delicious ingredient called OLA. I found that by enjoying these gourmet oils as part of my regular meals and wellness routine, I could now also sleep through the night, function without anxiety, and enjoy anti-inflammatory benefits without taking traditional medications. I am proud to have established a new precedent for plant-based cuisine in the fine dining marketplace. My series of Canadian Consulate dinners established that plant-based, farm-to-table cuisine can be very gourmet. I am proud to introduce cannabis to the fine dining marketplace in the same way. Cannabis is a beautiful ingredient and OLA translates this into an elevated approach not only in the event space but also filling a space on dinner tables across North America.
Q: How do you balance the demands of your professional and personal life, and what strategies have helped you to be successful in both areas?
CH: For me, my morning routine is everything. 1. Meditation, every day, sometimes twice a day. 2. Coffee with my husband and my best friend (even if I'm on the road) 3–Yoga–after 18 surgeries, yoga is poetry for my body. It focuses my mind and helps prepare my body for the challenges of the day. 4. Morning dance party–at least two songs every day. No matter what happened the day before, you can't help but jump into your morning meeting with a smile, if you've had a little dance first.
Q: Looking ahead, what do you hope to achieve in your role as a leader, and how do you plan to work towards these goals?
CH: We all have a story. For me, I want to share my story through my food and my brand. I want to help people see this misjudged plant in a different way. I want to be the reason they experience it for the first time and for that experience to be the reason they come back for a second time. As an industry, we have this incredible opportunity to create a new culture. I've never seen anything so clearly as I see my vision for Flower Farma. As a culinary-focused cannabis brand, this is the future of cannabis. When we realize that we can all work together–united by our passion for this plant–we can find a place for each one of us in this space. It is this community and our stories together that will ultimately make us all successful.
Interested in joining us for dinner with Chef Julie and getting in on the delicious fun? Join us for Summer Buds & Blooms. June 9th from 5PM-9PM at Cannabis Talk 101 Studios in Los Angeles.
Click here for details.