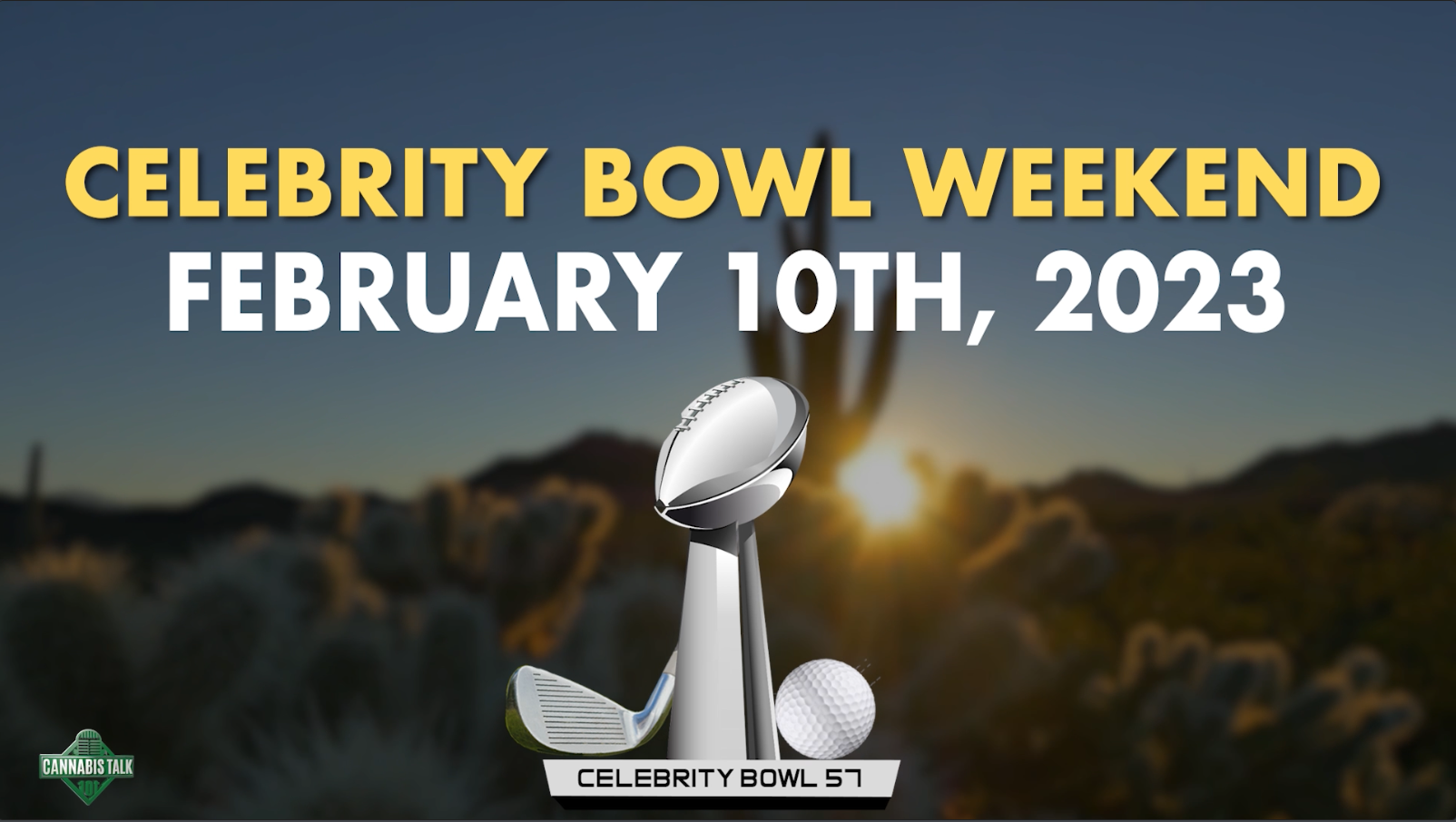 Be a part of something game changing Celebrity Bowl Weekend!
Read Time:
3 Minute, 11 Second
On February 10th in Arizona's capital, Phoenix, join Cannabis Talk 101 for the first cannabis friendly event with the Gridiron Greats Classics.
Hosted by Jim McMahon, who you know from his start with the Chicago Bears or his final yards with the Green Bay Packers, Eben Britton, also from the Chicago Bears and Jacksonville Jaguars, and finally, Kyle Turley, with his accolades as First and Second-Team All Pro, the event is set to happen at the Anthem Golf & Country Club located at 41551 N Anthem Hills, Phoenix, Arizona, 85086. 
Proceeds benefit The Gridiron Greats Assistance Fund, a non-profit organization that provides financial grants and pro bono medical assistance to retired NFL players in need.
Presented by Farechild Events, Revenant, Red Falcon, and of course, us here at Cannabis Talk 101, Celebrity Bowl Weekend will be filled with lots of your favorite athletes from football, baseball, and even hockey.
The retired athletes are from teams all over the States, from New York to Los Angeles and everything in between. From the Los Angeles Dodgers, there will be athletes like Steve Garvey and Dave Stewart, and from the New York Yankees, David Wells, Johnny Damon, and Goose Gassage!
There are even football players from the state with its very own pledge, Texas! From the Dallas Cowboys, there will be Steve Wright, Ed Jones "Too Tall," Kenny Grant, Ryan Leaf, and Emmitt Smith.
The last set of athletes are our hockey players. Come out to see Marty McSorely and Jeremy Roenick!
Along with our athletes attending, we have plenty of partners that are aiding in creating the perfect atmosphere.
Callaway Golf with its innovative golf products, Wilson Golf used by top professionals, plus Nike Golf that will send plenty of encouragement on the courses to "Just Do It."
Farechild is an all-inclusive ticketing and marketing platform. Another digital star is Philips, the tech giant.
Mint Cannabis wants to educate and employ the cannabis community, and similarly, Revenant advocates for natural healing.
Sellers and growers that have partnered with Cannabis Talk 101 to throw the event are Sweetpeas CBD Infusions who love creating a relaxed and inviting atmosphere, Red Falcon who is leading the cannabis market, premier dispensary from Las Vegas, Oasis, Doc Ray Genetics that breeds and cultivates cannabis, FLWR CO, the first licensed shop in the city of Corona, and finally, growing some of the best cannabis in Arizona and Califoria, we have Mohave Cannabis Co.
.
The atmosphere sponsored by our other partners Fields Cannary, an all encompassing destination spot with a bar and smoke lounge, Elevations Nation who wants you to live the life you crave, and Soulitify, Phoenix's high energy cover band.
Products by our partners include My Bud Vase that features bud vases transformed into fine smoking implements, ADULTalyte with guaranteed hangover relief, and High Rise that has low sugar, natural, non-alcoholic seltzers.
Here is a full list of our confirmed athletes:
Jon Ashton
Morten Anderson
Toby Gerhart
Christian Okoye
Steven Wright
Kevin Butler
Mark Rypien
Avery Williamson
David Wells
Richard Dent
Eric Dickerson
Ricky Watters
Todd Lyght
Jason Plummer
Warren Sapp
Anthony Smith
Ephraim Salaam
Johnny Damon
Ed Jones "Too tall"
Wally Williams
Kirk Ringer
Kim Alexis
Ron Brown
Larry Centers
Mark Collins
Mike Dempsey
Roland Fingers
Kenny Gant
Willie Gault
Steve Garvey
Goose Gossage
Paul Kruger
Ryan Leaf
Jon Madsen
Alvin Mckinley
Donovan Mcnabb
Marty McSorley
Lydell Mitchell
Jamir Miller
Ty Parten
Jerry Rice
Jerem Roenick
Emmitt Smith
Dave Stewart
Kenny Vacarro
Mark Walczak
Patrick Warburton
We hope to see you there!
Still have not purchased a ticket? Don't be shy! Click here: https://www.winningticket.com/gridiron-greats-celebrity-golf-classic?fbclid=PAAaZE1siq89WerJBCP5vLgwSLPKGEyUzPrhB_4IkXl4VlaDaGLnxkHeT2rMA